Are you about to step out on some late Summer travel?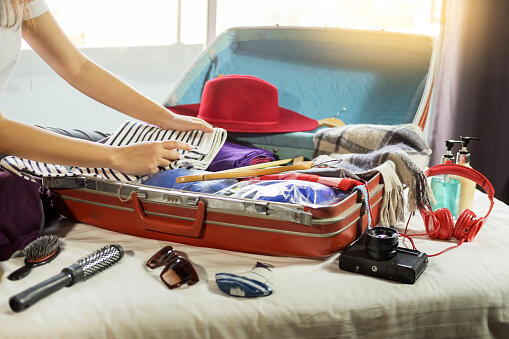 @gettyimages
Can't wait to get to your hotel room and to throw your bags on the bed?
DO NOT DO IT.
This article makes the case that the best place you can put your luggage when you get to an AirBNB or HOTEL or where ever you are staying... is the BATHROOM.
Even better: PUT YOUR STUFF IN THE TUB.
WHY?
BED BUGS.
They can be in sheets. Carpets. EVEN IN THE LUGGAGE RACKS.
From the article:
The reason behind it is simpler than you might think, but it might make your skin crawl: bed bugs. These teeny tiny critters hide inside beds, couches, and clothing, and feast on the blood of humans to survive. (Sounds like something out of a horror movie, doesn't it?) And if they're present in the room, they'll happily jump from the bed to your luggage and into your clothing, if given the chance.
"Travelers should avoid placing their luggage on upholstered surfaces and the bed when they arrive at their destination, since bed bugs are typically found on mattresses, box springs, and in the crevices of furniture and inside upholstery," says Brittany Campbell, Ph.D., staff entomologist for the National Pest Management Association (NPMA).
Since they're way less likely to infest a bathroom, Campbell says that it's the safest place to store your luggage when you're away from home. You can either place your luggage in the tub while you thoroughly check your room for bed bugs, or leave your stuff in the bathroom during your entire stay. (If you leave your bag in the bathtub, just remember to take it out before you turn on the shower. That could end pretty badly.)
You have been warned! Happy TRAVELING!