#ReadThisNOW: All the news that's not fit to print!
Hey!
Thanks for choosing to #ReadThisFIRST. Can we just start by talking about this insane NASTINESS?!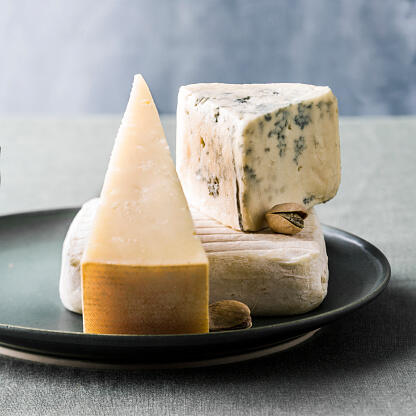 @gettyimages
A museum has crafted cheeses made from the bacteria growing in human armpits and belly buttons.
HUMAN ARMPITS AND BELLY BUTTONS??!?? !
The museum curator said, (quote) "People are repulsed and attracted to cheese. Our exhibit starts an interesting conversation about bacteria and odors. Why they gross people out."
Point of fact, some microbes used to turn milk into cheese are remarkably similar to bacteria growing on our bodies. There's your reason why cheese can smell so much like stinky feet.
The Victoria and Albert Museum obtained bacteria growing in the armpits, ears, noses and bellybuttons of five British celebs, including a member of the band Blur and Great British Bakeoff runner-up Ruby Tandoh. (Smithsonian Magazine) 
No wonder kids are so stressed… A new study found that today's parents think their kids should be starting their future career paths … at the age of 5 and a half. According to the research, 56% of parents even have a specific career in mind for their kids. What are these careers? Engineering, Medicine and IT. 75% of parents want their child to end up in a STEM [Science, Technology, Engineering and Math] field and 90% believe it's important to develop STEM skills in their children with things like STEM-focused toys (67%), at-home experiments (57%), and STEM-focused learning apps (54%). (SWNS)
Open office spaces are distracting… An entirely un-shocking survey has found that nearly 100% of employees working in an open office environment are distracted by their co-workers during the workday. According to the survey, 40% of open-office workers say they are always or very often distracted. 50% of respondents said the open office plan made it difficult for them to focus. These are what employees in open office spaces say are their Top 3 distractions:
Loud co-worker on the phone
Office celebrations
Co-workers talking nearby (The Ladders) 
Speaking of work… When it comes to people quitting their jobs, money is the biggest motivating factor. According to research by compensation software company Payscale, here are the top reasons people leave their jobs
Want more pay – 25%
Unhappy at their current organization – 15%
Want to work at an organization more aligned with their values – 14%
Unhappy their current position is not full-time – 10%
Want a promotion – 7%
Want a more flexible schedule – 2%
Other – 15% (The Ladders)
There's a reason people call it "Whole Paycheck"… According to data by Bank of America, Whole Foods is America's most expensive grocery store. On the other end of the scale, Walmart has the lowest prices. (Food & Wine)
THE DRUNKEST COUNTRIES IN THE WORLD
A new global survey has found that the United States is not the drunkest country in the world. But, we are number two on the list.
England is at the top, with the British getting intoxicated an average of 51.1 times a year. The U.S. is close behind at 50.3 times a year.
Here's a rundown of the top 10:
England
United States
Canada
Australia
Denmark
India
Ireland
Mexico
Czech Republic
Finland
Belgium
In case you were wondering, the global average is about 33 drinking sessions per year – which is a bit less than our habit of once-a-week. (Daily Mail)
YOUR CAR MIGHT KNOW WHEN YOU GAIN WEIGHT
Cars have gotten so advanced that they're pretty much smartphones with wheels. This is great because of all the features like automatic braking and turn-by-turn directions.
But, it also could be a problem because cars are constantly collecting data – and beaming that data back to the car companies.
Experts say modern cars collect as much as 25 gigabytes of data per hour. The data is so specific that cars can actually tell how much each driver weighs – and if that driver is gaining weight.
All this data being shared with car manufacturers is – not surprisingly – a big concern for people who care about privacy. (The New York Times)
LITTLE CAESARS IS EXPERIMENTING WITH MEATLESS MEAT ON THEIR PIZZAS
Little Caesars is experimenting with meatless meat on their pizzas.
The pizza chain is working with Impossible Foods, which produces "meat" and "sausage" that's made out of plants – and is testing the topping at locations in Florida, New Mexico and the state of Washington. (The Verge)

Toby Knapp
Want to know more about Toby Knapp? Get his official bio, social pages & articles!