Dangerous Husband & Wife Trapeze Stunt Goes Wrong On 'America's Got Talent'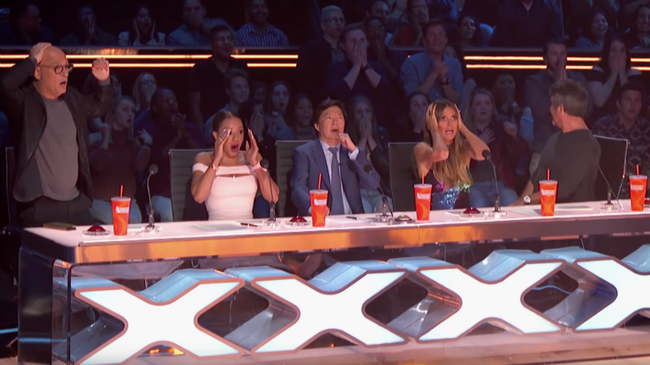 Anything can happen on live television and the Tuesday episode (July 17) of America's Got Talent served as another example of that when a husband/wife duo called Duo Transcend and their trapeze trick took a turn for the worse.
For the performance, Mary and Tyce wowed the judges with some high-action tricks in the air, but their grand finale didn't go as it should have, leaving the entire audience in shock. Despite being legally blind in his right eye due to a progressive eye disease, Tyce went ahead and blindfolded himself and proceeded to hang upside down to catch his wife, who was propped up above him. Unfortunately, Mary's body slipped through Tyce's hands and her body landed on the stage as the hosts looked in terror. To make matters worse, their 2-year-old son, Jaxx, was watching from the audience alongside his grandmother, who covered her face right as her daughter hit the ground.
To everybody's relief, Mary got up from the ground, revealing that she was not seriously injured by the mishap. She wanted to give the trick another go but was denied by the judging panel, which also included guest host Ken Jeong.
"This is not America's Got Perfection, it's America's Got Talent, nobody can do this," the actor told the couple. "I mean, it's okay. It's okay." Cowell kept the relief going when he told the duo that mistakes happen and that they would be moving onto the live round of the competition. Stay tuned to see how Duo Transcend performs in the follow-up round of America's Got Talent, which airs Tuesdays at 8 PM ET on NBC.
Photo: YouTube/America's Got Talent